About Us
Teapot Summer School is New Zealand's premier non-auditioned choral school.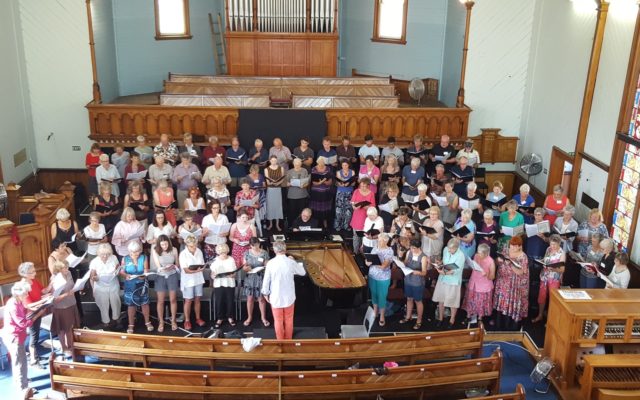 Typically about 70–80 choristers get together every January to work with a wonderful, predominantly international, choral conductor to make beautiful music in a beautiful setting. If we want we can get individual coaching from a highly qualified teacher for no extra charge. We perform a wide range of music from classical European Great Works through to shorter contemporary works, including music by New Zealand composers. For nine days we enjoy great company, copious food and have fun making other music in small groups or just lazing about in one of the most stunning parts of New Zealand.
Some of us are hooked and turn up every year to recharge our batteries – we'd love to share the magic of Teapot with you.
Enjoy the finest professional training through:
Three rehearsals with the conductor each day plus smaller group sessions as needed
Daily warm-ups and brief clinics with a top voice specialist
Your own private voice production session
Have fun at the in-house cabaret:
Perform a musical item, recitation, sketch parody or anything you like whether on your own or with others
Or just enjoy the talent on offer in the very informal show
Join in other activities during your free time, such as:
On-campus evening entertainment
Swimming in the open air pool, tennis, fierce and friendly board and card games
Young student opportunity:
You can audition for a chance to sing with the National Youth Choir of Great Britain.
The winner receives a return trip to the UK to attend one of the NYCGB's residential courses culminating in a public concert.
It is possible that the Covid pandemic may mean it is not possible to travel, or that the NYCGB is not meeting. In that case, there will be no compensation for the winner of the scholarship.
Future Teapot Summer Schools
Mark your diaries!
14-23 January 2023 | Conductor Ebbe Munk
12-21 January 2024 | Conductor TBA
"I wanted to give people the opportunity to experience unimaginable beauty"
Carl Browning,
Teapot Summer School Founder