Singing career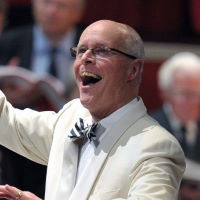 Brian Kay studied music at Cambridge University as a member of the choir of King's College under the inspired direction of the late Sir David Willcocks. He was the founder-bass of the world-famous vocal ensemble The King's Singers and performed 2000 concerts with them worldwide between 1968 and 1982.
Following that, for twenty five years he wrote and presented thousands of programmes for BBC radio and television (and many for Radio New Zealand Concert) before turning to full-time conducting.
Conducting career
He was chorus master for ten years of the Huddersfield Choral Society, for twenty one years conductor of the Leith Hill Musical Festival as well as Musical Director of the Cheltenham Bach Choir, the Cecilian Singers of Leicester and the Mary Wakefield Westmorland Festival.
Brian is currently Principal Conductor of The Really Big Chorus, with which he regularly conducts massed choral concerts in London's Royal Albert Hall, an annual summer school, choral cruises and trips to exotic locations including China, America, South Africa, Russia and many parts of Europe.
He is also Music Director of the Burford Singers near to his home in the Cotswolds.