Nicholas Sutcliffe lives in Christchurch where he is Organist & Co-Director of Choirs at Christ's College and Associate Director of Music at St Mary's Pro-Cathedral.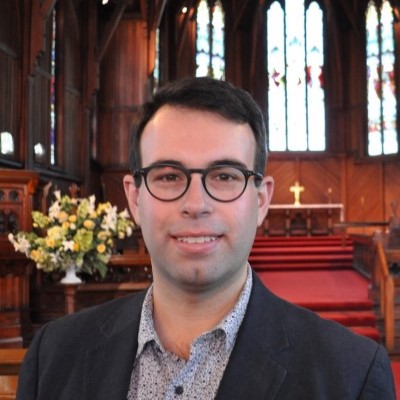 He is also the Musical Director of the Christchurch Boys' Choir, and a Trustee and Co-Curator of the Christchurch Town Hall Organ.
He has previously served as Assistant Organist and Acting Director of Music of Christchurch Cathedral, as well as Acting Director of Music at Holy Trinity Cathedral, Auckland.
Nicholas was raised in Auckland and studied harpsichord, conducting and organ at the University of Auckland. While at university, Nicholas won first prize at the NZ Organ Performance Competition, and has been a featured organist with the Auckland Philharmonia Orchestra workshopping and premiering a commissioned organ concerto, and the Christchurch Symphony Orchestra.
His work as a music teacher at Christ's College sees him teaching academic music as well as plenty of co-curricular activities, including having seven organ students at the College at present. As part of this work, Nicholas has directed various choirs from Christ's to the Big Sing National Finale on many occasions.
Nicholas is what he describes as a 'semi-active' recitalist, trying to fit solo programmes in to his life where possible! He has presented recitals all over New Zealand, and has played in churches and cathedrals in many cities all over the world.
He is looking forward to being part of the Teapot musical team, and has fond memories of his times attending as a singer whilst he was still at school.